Reminder, Thursday, December 5th is an Early Release Day. There are no PreK classes.

All Maranacook Area Schools will be closed Tuesday, December 3 due to inclement weather.

RSU 38 - All after school activities have been canceled today Monday, November 18 due to inclement weather. Please be safe on the roads.

Maranacook Community High School's Outreach Presents Community Breakfast Come support your local community; All proceeds go towards heating homes in our community for those in need! When: December 7th, 7-10 AM Location: Student Center Cost: $5 per person There will be a raffle, activities, games, music, and lots of fun!!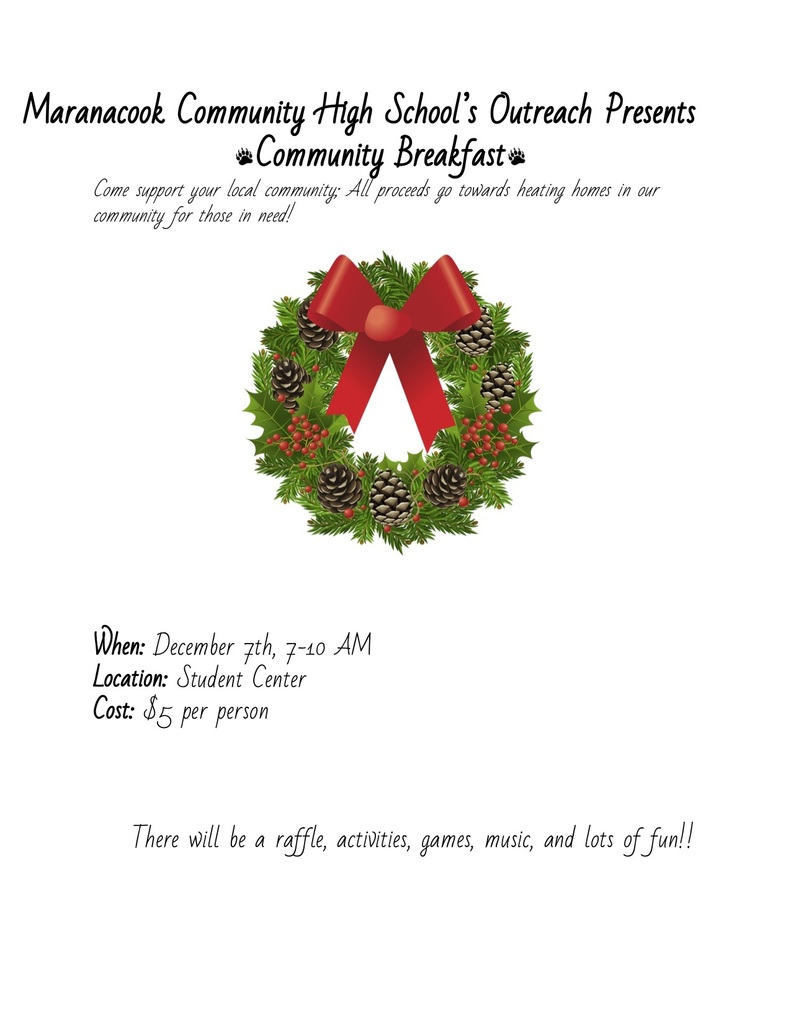 Due to continued poor weather conditions all RSU 38 schools will be closed for Tuesday, November 12.

Due to inclement weather all schools in RSU 38 will have a 2 hour delay Tuesday, November 12.

Tickets are sold out for the Maranacook High School production of Mamma Mia!

The MCHS gym will be closed from Nov. 2nd thru Nov. 15th. We are dismantling old bleachers and installing new ones. Sorry for any inconvenience this may cause. If you have any questions, please feel free to contact Shaun Drinkwater or Brant Remington.

Power has been restored to Wayne Elementary School! Friday will be a normal day for all of the students and staff! Thank you everyone!

Update on Wayne Elementary: CMP is unable to give us a time when power will be restored. Wayne Elementary students will eat an early lunch at the High School and then board busses at 10:45 am to return home. Alternative arrangements can be made by contacting the High School.

Update: Wayne Elementary Students will be going to Maranacook High School for the short term where they can have breakfast and until we can determine when power will be restored at WES.

Wayne Elementary School is without power and CMP has been notified. All other school building have power at this time. The Wayne school will remain open and we will update its status as soon as possible.

Great visit at Maranacook Community High School today! Love the students and staff in this building - such great things happening! Sadly could not help in the science class working on fusion!

Just got done a visit to Readfield Elementary School -amazing staff and amazing students! Math, dancing, cloze reading, and morning meeting just a few examples of the activities happening in this dynamic learning community! Go Bears!

Reminder School Board of Directors meeting tomorrow at Wayne Elementary! School tour begins at 6:00 pm with the business meeting to follow at 6:30 pm. Hope to see you all there!

Thanks to the students and staff it was an amazing start to the school year! See everyone back on Tuesday 9/3! Enjoy the Labor Day weekend!


Due to paving, no traffic will be allowed in the circle at the High School and Middle School on Thursday, 8/22. Parking will be allowed in the lower parking lot, but there will be traffic delays.

Students are back in 6 work days (not counting today)! Looking forward to seeing the classrooms full of eager students!

Pesticide Treatments on Maranacook Campus We are treating all sports infields and tennis courts plus fence lines with pesticide and will be closed from Friday, August 9th am until Sunday, August 11th 9:00 am.